Here at Reusch Interior Design we're gearing up for New Life Furniture Bank's annual Party in the House! In honor of us selecting our 2023 piece, we want to take a look back at how much we enjoyed playing a part in the 2022 showcase.
In November 2022, we were privileged to take part in the New Life Furniture Bank's annual Party in the House event, which showcases the artistic metamorphosis of old furniture into new reimagined furniture pieces. The designer-transformed furniture pieces are presented as auction items during the event to raise funds for a noble cause. All proceeds are channeled towards New Life Furniture Bank's initiative: providing families and individuals with fully furnished homes after overcoming circumstances involving homelessness.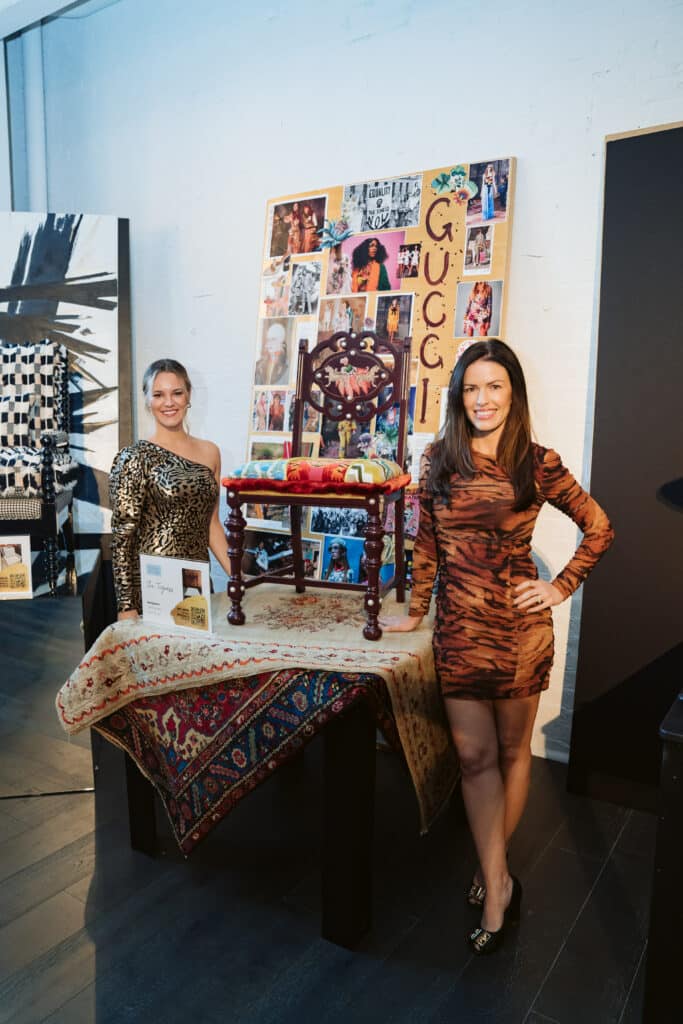 who is new life furniture bank?
New Life Furniture Bank is the only furniture bank in the Southwest Ohio area, providing furniture to those who are most in need in Greater Cincinnati, Northern Kentucky, and Dayton. In 2022 alone, they served over 4,000 individuals – and over half of those people were children.
Thanks to their many generous sponsors, they host their "Party in the House" every year with the participation of some of Cincinnati's most acclaimed interior designers. Leading up to the event, designers like ourselves are tasked with selecting a piece from their warehouse – or their Sharonville thrift store (which we encourage everyone to visit). It's then our job to create something new and exciting from this pre-loved piece and give it "New Life"!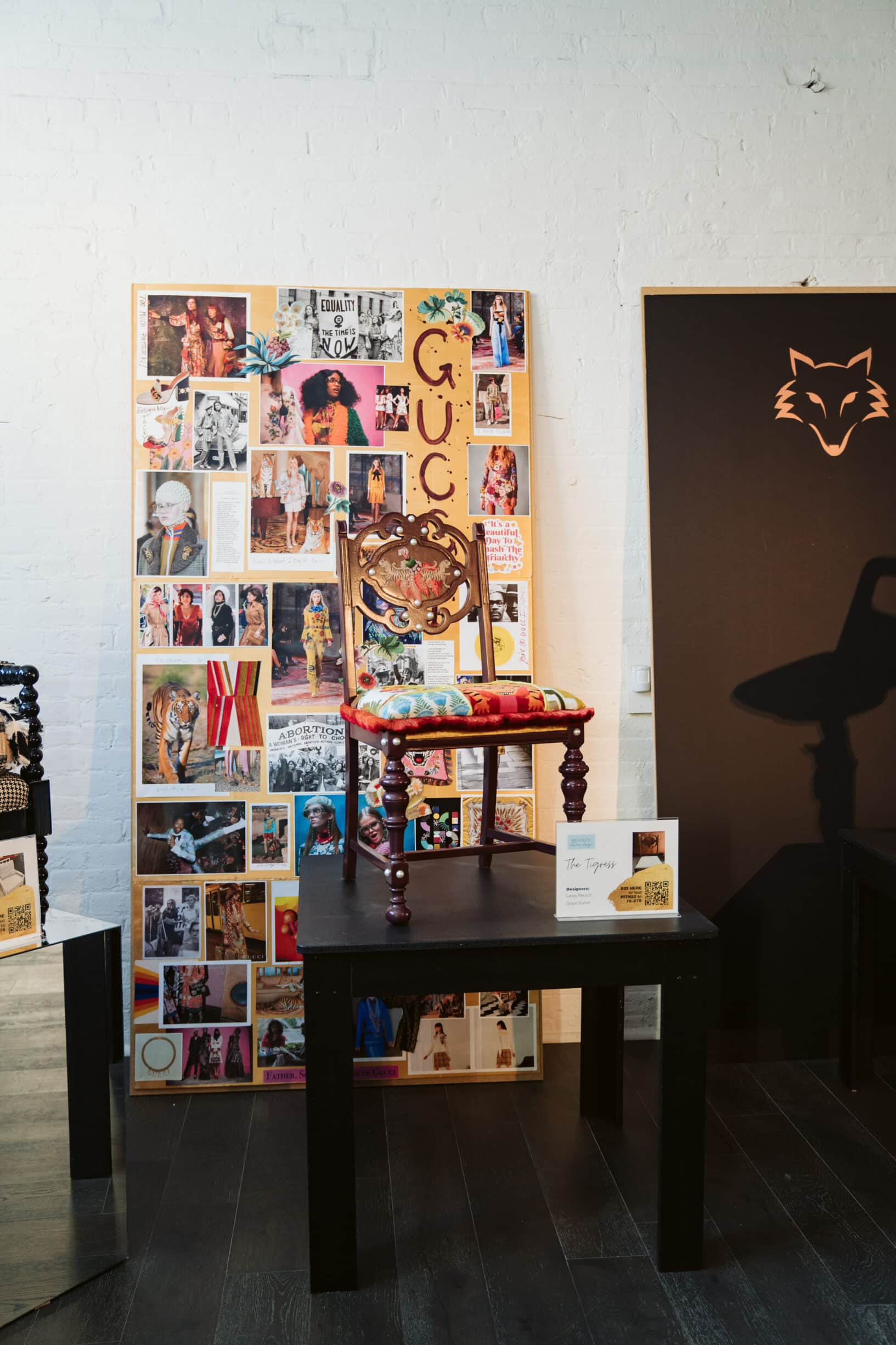 The 2022 Party in the House event was themed "A Chair Affair". We visited the New Life Furniture Bank Thrift Store and Warehouse to select our chair to makeover and were inspired by the scrolling wood frame of an antique side chair. We focused on the feminine, old-fashioned lines of our chair's frame and settled on a vintage Gucci design concept. Our chair would be called "The Tigress"!
Our vision merged vintage 1970s Gucci aesthetics including bold colors and floral patterns, with their newer tiger motifs. We utilized bold fringe and cording from Samuel & Sons Passementerie, vibrant tiger velvet textiles from Schumacher, and exquisitely rich embroidery by Pierre Frey. We rejuvenated the stability of the seat and reupholstered the top with textiles in a patchwork display. After painting the frame with one of our favorite Farrow & Ball paint colors, we embellished the frame with hand-applicated gild and pearls. The theme was also displayed on the chair's backdrop which featured vintage Gucci prints, along with a vintage rug from Fazel Rug Gallery.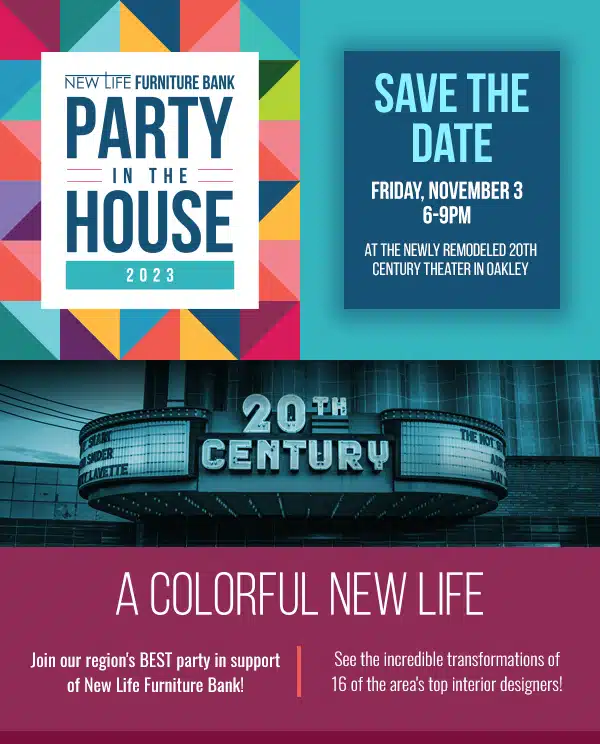 on to "a colorful new life" in 2023
Looking ahead to this year, the theme for 2023's Party in the House event is "A Colorful New Life", led by DIGS. We can't wait to see all the color in everyone's transformations. We're still in the conceptual phase, but we're so excited to have selected a piece. We'll give you one hint: it's not a chair! 


We hope that you'll be there to see our completed piece, along with many others, on Friday, November 3rd. The event starts at 6pm and takes place at the freshly restored 20th Century Theater in Oakley.
For tickets and sponsorship opportunities, email Karen Wirthlin from New Life Furniture Bank, at karen.wirthlin@nlfurniture.org. Join us, along with New Life Furniture Bank, in this year's fundraising goal to raise enough to deliver fully furnished homes to 120 families.
Do you have any lightly used furniture items that are taking up space in your home? New Life Furniture bank could use your donation! Visit New Life Furniture Bank's website to schedule a furniture pick up! Your pre-loved items could make a world of difference to someone in need.